Trusted Training Partners
Quick Look Course Summary:
Lean Six Sigma Green Belt Training Course
Next Public Course Date:

Length: 8 day(s)

Price (at your venue): 1 Person R 0.00 EX VAT 3 Person R 0.00 EX VAT 10 Person R 0.00 EX VAT

Certification Type:6Sigma Study Certification

Locations & Venues: Off-site or in-house. We train in all major city centres throughout South Africa.
Get Free & personalised
Training Advice
Lean Six Sigma Green Belt Training
Lean Six Sigma Training
Lean Six Sigma Green Belt (LSSGB™) course focuses on providing students with an understanding of the various Six Sigma and Lean tools and techniques useful to improve the production process and minimize defects in the end product with a greater focus on the practical implementation of these tool and techniques in the organization.
All Six Sigma Training is done according to the syllabus for the various courses specified.

Lean Six Sigma Yellow Belt (LSSYB)
Lean Six Sigma Green Belt (LSSGB)
Lean Six Sigma Black Belt (LSSBB)
WHAT IS LEAN SIX SIGMA?
Lean Six Sigma  is not an add-on to normal business activities. When implemented correctly, it is an integral part of the management and production process – driven by data and philosophy.
Six Sigma is a data-driven approach for eliminating defects and waste in any business process. You can compare Six Sigma with turning on your kitchen tap and experiencing the flow of clean, clear water. Dependable systems are in place to treat, purify and pressurize the water through the tap. "That is what Six Sigma does to business: it treats the processes in business so that they deliver their intended result." (As cited in Six Sigma for Dummies by Craig Gygi, Neil DeCarlo, Bruce Williams).  Lean means getting rid of the baggage that slows any process down, and not just production.
Together Lean philosophy and Six Sigma can assist any business, with production processes,  redundant floor space, complaints resolution, eliminating waste and improving efficiencies within all aspects of an organization.  Important to note; is that Lean Six Sigma is not about getting rid of people, but rather empowering employees to be more efficient in their own space.
This course will comprehensively teach participants the entire Lean Six Sigma methodology and essential business principles,  including practice activities to do during and between workshop sessions.
Participants will be taught Basic Statistics (YB & GB) and Advanced Statistics (GB & BB); The Harada Method (GB & BB); Theory of Constraints (only Black Belts); the philosophy & the foundations of the 5 Principles of Lean and Six Sigma DMAIC. Armed with various tools within each phase, participants will be able to simplify complexed business problems through analysing data for variation and ultimately coming up with practical solutions. The aim of which is to reduce waste, minimise defects, improve efficiencies and bottom-line results.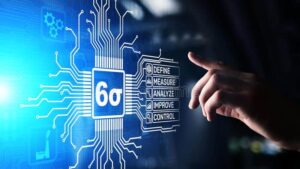 Course Duration
7 days in-class instructor led training plus exam day
Course Outline
Module 1: History and Evolution of Quality
Explore the contributions of key figures such as Deming, Juran, JIT, Ishikawa, and Taguchi to the concept of quality.
Trace the evolution of Six Sigma as a methodology for process improvement.
Understand the fundamental philosophy and objectives behind Six Sigma.
Module 2: Overview of Six Sigma DMAIC Process
Learn about the DMAIC (Define, Measure, Analyze, Improve, Control) framework, a structured approach for process improvement.
Understand the purpose and steps involved in each phase of the DMAIC process.
Module 3: Stakeholders and Setting up a Six Sigma Project
Identify and document stakeholder requirements to ensure project success.
Explore criteria for project selection and how to plan and initiate a Six Sigma project effectively.
Manage team dynamics and understand important project management and planning tools.
Module 4: Six Sigma Methodology – Define Phase
Understand the key inputs required for starting a Six Sigma project, including the need for the project, executive management sponsorship, and core team identification.
Learn about the tools used in the Define phase to set the project scope and objectives.
Define the desired outputs of the Define phase for successful project initiation.
Module 5: Six Sigma Methodology – Measure Phase
Explore the objectives of the Measure phase and its importance in gathering data to understand the current process performance.
Utilize the outputs from the Define phase as inputs for the Measure phase.
Learn about the various tools used in the Measure phase to collect and analyze data.
Define the expected outputs of the Measure phase.
Module 6: Six Sigma Methodology – Analyze Phase
Understand the objectives of the Analyze phase, which involves identifying root causes of process issues.
Use the outputs from the Measure phase as inputs for the Analyze phase.
Learn about the different analytical tools employed to analyze data and identify improvement opportunities.
Define the expected outputs of the Analyze phase.
Module 7: Six Sigma Methodology – Improve Phase
Explore the objectives of the Improve phase, which focuses on implementing solutions to address identified issues.
Use the outputs from the Analyze phase as inputs for the Improve phase.
Learn about various improvement tools and techniques to optimize processes.
Define the expected outputs of the Improve phase.
Module 8: Six Sigma Methodology – Control Phase
Understand the objectives of the Control phase, which involves sustaining improvements and monitoring performance.
Use the outputs from the Improve phase as inputs for the Control phase.
Learn about tools to ensure the continued success of the improved process.
Define the expected outputs of the Control phase.
Module 9: Lean Principles and Practices
Introduce the concept of Lean and its focus on eliminating waste and increasing efficiency.
Learn about Value Stream Mapping as a tool to visualize and streamline processes.
Understand how Lean principles can be applied to speed up processes and optimize the total supply chain.
Explore Lean Six Sigma Logistics and its role in process improvement.
Module 10: Case Study
Work through a comprehensive case study that integrates the concepts learned throughout the course.
Analyze the case study in different parts, simulating real-life scenarios and problem-solving.
Successful Completion
Successful completion requires passing of all exams provided by BOTI for each Module, as well as the Case Study.
Upon completion, all delegates will receive a Certificate of Attendance from BOTI for Yellow Belt Lean & Six Sigma and a

6sigmastudy™  Six Sigma Yellow Belt  (Not Lean) – please see below why BOTI has this certification route. 

6sigmastudy™ Six Sigma Certifications
Other Six Sigma Certifications
1. Biggest accreditation body for Six Sigma certifications
6sigmastudy™ is the biggest accreditation body for Six Sigma certifications. 6sigmastudy™ has the largest Authorized Training Partner (A.T.P.) network of 2,100+ partners in 90+ countries.
Other Six Sigma accreditation bodies are smaller and not as well-recognized as 6sigmastudy™.
2. Students from 25,000+ companies in 150+ countries
VMEdu® / 6sigmastudy™ has trained/certified more than 750,000 students in delivering successful Six Sigma projects. More than 5,000 students are certified by 6sigmastudy™

each month which is more than any other certification body. Employees of 25,000+ companies from 150+ countries have enrolled with 6sigmastudy™/VMEdu®.

Other Six Sigma accreditation bodies are not as popular or as widely accepted.
3. Industry-wide acceptance
The knowledge gained by getting a 6sigmastudy™ certification is universal in its application and has been applied by organizations in diverse projects spanning an eclectic mix of industries.
Other Six Sigma certifications are not accepted in all industries. Most of the time the learning from these certifications applies only to specific industries.
4. Established name in Six Sigma certifications
Training for 6sigmastudy™ certifications are provided by Authorized Training Partners (A.T.P.s) globally.

With more than 2,100+ A.T.P.s globally, 6sigmastudy™ has the widest network of accredited training companies offering its certifications.

6sigmastudy™ certifications are widely reputed and accepted by various Fortune 500 companies such as Apple, IBM, HP, Bank of America, AT&T, Dell, Verizon, Lockheed Martin, and PepsiCo.

Other Six Sigma certification companies conduct their training through a much smaller network of trainers or training companies, and do not have the same level of credibility in the market that 6sigmastudy™ has.
5. Active Discussions to share and learn
6sigmastudy™ engages the Six Sigma/Lean and Quality Management community through active discussions on LinkedIn, Twitter, Facebook, multiple Discussion Forums and Blogs. The 6sigmastudy™ LinkedIn Group is the most active Group for Six Sigma on LinkedIn.
Usually, other certification providers do not have such high activity discussion forums to engage their community.
6. Multiple free resources for Six Sigma Community
6sigmastudy™ provides a wide range of free resources such as 5+ hours of high-quality videos, useful case studies, interactive mobile apps, blogs, and articles, thereby contributing to the increased awareness of Six Sigma in the Six Sigma communities.
No other Six Sigma Certification provides high quality content and free resources to students in multiple formats. The main focus of such certification providers is to get students to their paid classes, rather than help students succeed with best practices.
Realize incredible savings by sending more delegates
Please Contact Us Now - We Will Respond in 15 Minutes