Trusted Training Partners
Quick Look Course Summary:
Lean Six Sigma Green Belt Training Course
Next Public Course Date:

Length: 8 day(s)

Price (at your venue): 1 Person R 59,115.00 EX VAT 3 Person R 28,502.73 EX VAT 10 Person R 16,063.46 EX VAT

Certification Type:Accredited

Locations & Venues: Off-site or in-house. We train in all major city centres throughout South Africa.
Get Free & personalised
Training Advice
WHAT IS LEAN SIX SIGMA?
Lean Six Sigma  is not an add-on to normal business activities. When implemented correctly, it is an integral part of the management and production process – driven by data and philosophy.
Six Sigma is a data-driven approach for eliminating defects and waste in any business process. You can compare Six Sigma with turning on your kitchen tap and experiencing the flow of clean, clear water. Dependable systems are in place to treat, purify and pressurize the water through the tap. "That is what Six Sigma does to business: it treats the processes in business so that they deliver their intended result." (As cited in Six Sigma for Dummies by Craig Gygi, Neil DeCarlo, Bruce Williams).  Lean means getting rid of the baggage that slows any process down, and not just production.
Together Lean philosophy and Six Sigma can assist any business, with production processes,  redundant floor space, complaints resolution, eliminating waste and improving efficiencies within all aspects of an organization.  Important to note; is that Lean Six Sigma is not about getting rid of people, but rather empowering employees to be more efficient in their own space.
This course will comprehensively teach participants the entire Lean Six Sigma methodology and essential business principles,  including practice activities to do during and between workshop sessions.
Participants will be taught Basic Statistics (YB & GB) and Advanced Statistics (GB & BB); The Harada Method (GB & BB); Theory of Constraints (only Black Belts); the philosophy & the foundations of the 5 Principles of Lean and Six Sigma DMAIC. Armed with various tools within each phase, participants will be able to simplify complexed business problems through analysing data for variation and ultimately coming up with practical solutions. The aim of which is to reduce waste, minimise defects, improve efficiencies and bottom-line results.
Description
Lean Six Sigma Training
All Six Sigma Training is done according to the syllabus for the various courses specified.

Lean Six Sigma Yellow Belt (LSSYB)
Lean Six Sigma Green Belt (LSSGB)
Lean Six Sigma Black Belt (LSSBB)
The Modules are similar for the different levels except for the depth in each case.
The structure of the training contact time is divided as follows:
In-class, instructor led training
Self-Study (including mandatory assignments, exam and case study to complete and submit)
In-class, instructor led training:
At the end of each classroom contact session, the participant mut successfully complete a True/False and Essay type exam/test for each module.
Case Study:
The case study provides information as if it were a real-life business problem. The participant is expected to apply the (RECOGNIZE) DEFINE, MEASURE, ANALYSE, IMPROVE and CONTROL phases of Six Sigma using the information provided at each stage, to solve the problem "hidden" in the data; and to "deliver" the expected financial benefits.  Through working through the case study, the participant  demonstrates the underlying thinking process and application of the appropriate tools learnt during the training.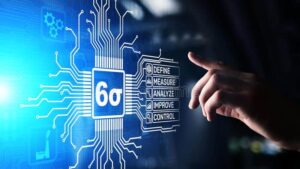 Lean Six Sigma Green Belt Training
Course Duration
8 days in-class instructor led training
4 days self-study (including mandatory assignments, exam and case study to complete and submit)
TOTAL of 93 hours
Course Overview
Day 1 & Day 2
Welcome & Introduction
Module1-TheSpirit of Self Reliance (Harada Method)
Module2-Six Sigma Essentials
Exams-Module1 to be completed and submitted by 08h00 on the day preceding
Pre-Reading: Module 3-Lean Principles
Module 2-Six Sigma Essentials-continued
Module 3-Lean Principles
Exams Modules 2 & 3 to be completed and submitted by 08h00 on the day preceding
Pre-Reading: Module4-BasicStatistics
Day 3 & 4
Module4-BasicStatistics
Exams-Modules 4 to be completed and submitted by 08h00 on the day preceding
Pre-Reading:Module5-AdvancedStatistics
Day 5 & 6 
Module5-AdvancedStatistics
Exams-Modules 5 to be completed and submitted by 08h00 on the day preceding
Pre-Reading:Module6-SixSigmaProjects
Day 7 & 8
Module 6-SixSigmaProjects
Module7-Introduction into the Case Study
Revision of old IASSC exam papers
Exams-Modules 6 to be completed and submitted by 08h00 on the day preceding
Module7-Case Study Story board completed and submitted by 08h00 on the day preceding
Course Fees Exclusions
Course fees displayed on this page exclude International Certification fee: $295
Successful Completion
Successful completion requires passing of all exams provided by BOTI for each Module, as well as the Case Study.
Upon completion, all delegates will receive a Certificate of Attendance from BOTI.
All Participants are encouraged to register and complete the IASSC exams for the appropriate levels to achieve International registration and recognition.
To earn an IASSC certification, participants will need to successfully sit for and pass an official IASSC certification™ exam. BOTI provides access to IASSC Certification exams for an additional cost of:

$195 USD for LSSYB
$295 USD for LSSGB
$395 USD for LSSBB
Realize incredible savings by sending more delegates