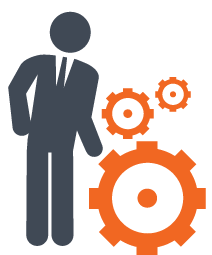 Post-Course "Toolkit" for Delegates
Upon completion of the course, delegates will receive a "toolkit" which will contain additional information, resources, tool, models, exercises and templates. All of which will be readily available as a point of reference once the newly acquired skills (specific to the attended training course) are implemented in the workplace.
Evaluation / Feedback forms
Our post evaluation forms will provide clients with measurable training ROI. The feedback submitted to clients will contain information obtained through the facilitator's observation. The report will include delegate participation, understanding of material, attitude, and team dynamics. The report will further make suggestions and propose recommendations on how to reinforce and prompt delegates to action. If identified, future training needs will be recommended.
Post Course "Coaching"  for in-house courses
To facilitate the transfer of skill and knowledge into the workplace, BOTI ensures that expert advice is available following all training. Delegates can communicate directly with the "coach" via email if they need support with additional questions regarding the application of content covered during the course.
This post course facility will provide delegates with more confidence in their ability to implement what has been learnt.
Continue reading